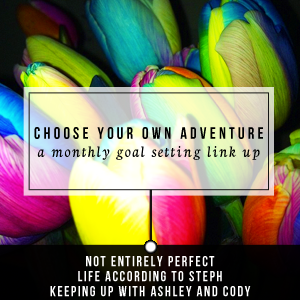 March's Choose Your Own Adventure challenge had the monthly theme of RELATIONSHIPS. My goals were:
1) Finish 40/40 strong - 40 minutes of exercise every day - Relationship with self and health: The 40/40 challenge is technically 46 days (you can take one day off per week) and ends next week. I've only missed one day so far!!!
2) Walk dogs every other day after daylight savings, family walks when MFD is home - Relationship with dogs, self and health, husband: MFD is in a very busy work time, but the dogs and I have been out trucking around the neighborhood weather permitting.
3) Make it a point to see friends and family this month - Relationships with friends: Dunzo! I scheduled a lot for my birthday month and it was great to spend time with so many loved ones.
- - - - - - - - - - - - - - -
April's theme is FINANCES.
My FINANCE Theme Goals:
1) Make extra payments on my car so it's paid off in May
2) Freezer and pantry clean out - use what I have without buying new aside from produce and dairy to save on household expenses
3) Don't use change - save it instead
The link up to report in on how you did with April - Finances will be Thursday, May 7. Mark your calendars!
Next month's theme...
May - Read
...Put the remote control down and pick up those books. Or work your way through the backlog of
New Yorker
issues next to your chair, read a real live newspaper once a week, catch up on your blog reading. Any goal in any medium that involves reading fits here.
Link up on Thursday, June 4.
NOTE: After May, we will be breaking for the summer.