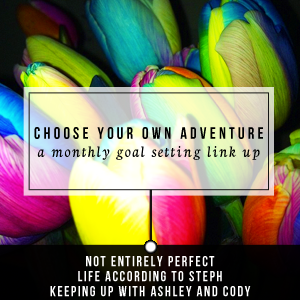 Februarys's Choose Your Own Adventure challenge had the monthly theme of CREATE. My goals were:
1) Increase weekly off-blog writing to three times a week. The first week I did it once, the second week twice, third week twice, last week three times. Not a fail but not a pass.
2) Paint bookcases in the basement. Newp. I thought about it, but that counts for bupkiss.
3) Create a birthday month itinerary. Dunzo.
- - - - - - - - - - - - - - -
March's theme is RELATIONSHIPS.
My RELATIONSHIP Theme Goals:
1) Finish 40/40 strong - 40 minutes of exercise every day - Relationship with self and health
2) Walk dogs every other day after daylight savings, family walks when MFD is home - Relationship with dogs, self and health, husband
3) Make it a point to see friends and family this month - Relationships with friends
The link up to report in on how you did with March - Relationships will be Thursday, April 2. Mark your calendars!
For those that like to look ahead, upcoming themes are...
April - Finances.
..Perfect timing as it's tax month. Do you want to save for a trip? Pay off a credit card? Put an extra $20 a week in savings? Stop using change and save it instead?
Link up on Thursday, May 7.
May - Read
...Put the remote control down and pick up those books. Or work your way through the backlog of
New Yorker
issues next to your chair, read a real live newspaper once a week, catch up on your blog reading. Any goal in any medium that involves reading fits here.
Link up on Thursday, June 4.
NOTE: After May, we will be breaking for the summer.