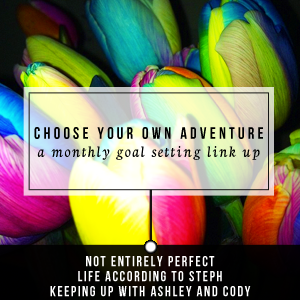 January's Choose Your Own Adventure challenge had the monthly theme of COMPLETE. My goals were:
1) Prep for taxes. I gathered all necessary forms, made a spreadsheet for the accountant with expenses and charity donations, and got through seven months of bank statements gathering info for MFD's business stuff. I'm calling this a win even though I have five months to go on the statements.
2) Deal with loose photos. By the skin of my teeth, I did this last weekend.
3) Take car in for tune up. Dunzo.
4) Finish out the month sticking to the activity schedule I've set up in my planner. Done. I'm most proud of this, I usually crap out on myself. It helps that MFD is being more active too.
- - - - - - - - - - - - - - -
February's theme is CREATE. I don't consider myself a creative person, so this was difficult for me.
My CREATE Theme Goals:
1) Increase weekly off-blog writing to three times a week.
2) Paint bookcases in the basement.
3) Create a birthday month itinerary.
The link up to report in on how you did with February - Create will be Thursday, March 5. Mark your calendars!
For those that like to look ahead, upcoming themes are
March - Relationships.
..Do you need more face time with friends? To call your parents or siblings more frequently? Does your dog need more walks? Do you and your partner need to put the phones down when you're together? Do you need to be more respectful of your own time and kind to yourself? This is the month to work on relationships - with family, friends, partner, pets, self.
Link up on Thursday, April 2.
April - Finances.
..Perfect timing as it's tax month. Do you want to save for a trip? Pay off a credit card? Put an extra $20 a week in savings? Stop using change and save it instead?
Link up on Thursday, May 7.
May - Read
...Put the remote control down and pick up those books. Or work your way through the backlog of
New Yorker
issues next to your chair, read a real live newspaper once a week, catch up on your blog reading. Any goal in any medium that involves reading fits here.
Link up on Thursday, June 4.
NOTE: After May, we will be breaking for the summer.
- - - - - - - - - - - - - - -
What about you? Link up and share how you did with your simplify goals.