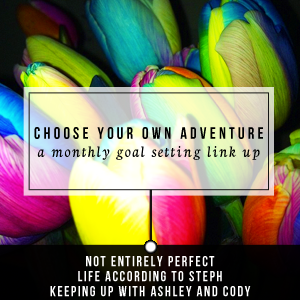 Decembers's Choose Your Own Adventure challenge had the monthly theme of simplify. My goals were:
1) Reduce screen time. Unplug more.
I enjoyed my cruise without the internets, and I didn't sit on it when I returned either. I was also better with not checking my phone when I was out.
2) Unsubscribe to emails I no longer want to receive.
Done. Whatever wasn't already in Unroll Me is now.
3) In regards to holidays, know whatever I do is enough.
I resisted the urge to scramble to get cards to people who I missed in the first round. I didn't try to cram cookie baking into my already packed December schedule. And we chose to stay home a majority of the day on Christmas, which we haven't done in years. It was really nice.
- - - - - - - - - - - - - - -
January's theme is COMPLETE. We all have that thing that moves from To Do list to To Do list and never gets done. Well, this is the month to get it done.
My COMPLETE Theme Goals:
1) Prep for taxes.
2) Deal with loose photos.
3) Take car in for tune up.
4) Finish out the month sticking to the activity schedule I've set up in my planner.
The link up to report in on how you did with January - Complete will be Thursday, February 5. Mark your calendars!
For those that like to look ahead, upcoming themes are
February - Create.
..Create a DIY project, a new recipe, a song, a piece of art, the start of a novel, a new list...wherever your creative mind takes you, follow it.
- - - - - - - - - - - - - - -
What about you? Link up and share how you did with your simplify goals.