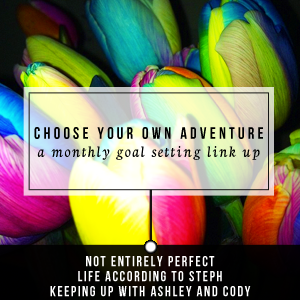 The second month of the Choose Your Own Adventure challenge had the monthly theme of food. My goals were:
1) Try new recipes in my typical cooking categories: appetizer, breakfast, main dish, veggie side, Sunday soup, and dessert.
f) dessert -
Pumpkin Pie Cupcakes
Cheddar jack cheese dip, spinach muffins, pumpkin pie cupcakes
2) Make a pie crust/pie from scratch. I meant to do this the last two weekends but ran out of steam. It's still on my fall goal list, so I hope to get to this in November.


3) Incorporate more salads with dinner and more veggies overall.
Week 1 - ate salad three nights, incorporated spinach in breakfast and lunch
Week 2 - The week of steamed broccoli.
Week 3 - Spinach breakfast muffins, cauliflower and sweet potatoes at dinner.
Week 4 - Spinach in my breakfast burritos, steamed veggies to accompany those. And steamed broccoli for dinners.
steamed veggies with breakfasts at work
- - - - - - - - - - - - - - -
What about you? How did you do with your food goal?
Remember, the theme for November is ORGANIZE. Check out my goals for November here, and be sure to enter my giveaway if you haven't already!
a Rafflecopter giveaway
My Organize Theme Goals:
1) Closets - utility and coat
2) Crap bins - bedroom, entry table, entry table drawer
3) Evaluate kitchen organization
The link up to report in on how you did with November - Organize will be Thursday, December 4. Mark your calendars!
For those that like to look ahead, upcoming themes are
December - Simplify
January - Complete
February - Create