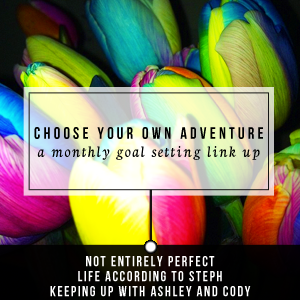 Well, here we are at the end of the first month of the Choose Your Own Adventure challenge with the monthly theme of fitness. The time where I tell you I sort of shit the bed on my goals, which were:
- - - - - - - - - - - - - - -
1) Walk four times a week
I started out well with number one in the first week, hitting four days. The rest of the weeks, while I increased my overall walking, I only set out specifically to walk for fitness twice a week. Not good enough on any count. 60%.
2) M-F squats
After only remembering on Friday of the first week, I managed to do these at least four times a week for the remainder of September. That's not too bad aside from the first week.
3) Three days of strength training every week.
I did pushups three times a week every week, but only used weights zero times the first week, once the second week, two times the third week, and three times the third week. I feel like I'm into a groove now with this schedule. So I think I'm about a 70% with rising grades.
I like this 10 minute Pop Sugar video on Youtube, as well as this bikini arms routine.
- - - - - - - - - - - - - - -
I think this month was good to get me into a routine that I hope to build on. I added stretching in at night at the end of September. And I need to realize that some days walks will be broken into 10 minute increments and I'll need to take a bunch of them to fit them in. I need to take health and movement a little more seriously than I have been.

What about you? What were your goals for the fitness theme and how did you do?
Remember, the theme for October is food - that can be cooking food, eating food, trying food, trying not to eat certain food, trying a new restaurant, bringing your lunch to work, etc etc. You choose your own adventure!
My Food Theme Goals:
1) Try new recipes in my typical cooking categories: appetizer, breakfast, main dish, veggie side, Sunday soup, and dessert.
2) Make a pie crust/pie from scratch.
3) Incorporate more salads with dinner and more veggies overall.
The link up for October-Food will be Thursday, November 6. Mark your calendars! Godspeed.
For those that like to look ahead, the theme for November is Organize and the theme for December is Simplify.