1. I'd like to buy every woman in the free world a bottle of the
Undercover Colors
nail polish that changes colors when exposed to date rape drugs
, invented by four male students at North Carolina State University. I hope they get flooded with
donations
to make this a marketable reality.
2. When you forget your lunch on the counter at home, you get to eat Chipotle.
Silver linings
.
3. I got my first Stitch Fix shipment last week and I hated every single piece. hahaha. I hope next month is better. You've got one more chance, Stitch Fix. Get your shit together. And maybe read the survey I filled out telling you what I don't like...and don't send me those things.
4. Have you guys followed Iva at
Why I'm Cray
? She blogs once a week and I always find it really interesting because it's not something I'd write myself. I always learn something from her and sometimes it's even (gasp) math. Seriously, the title of last week's blog was
0, 1, 1 Reasons The Fibonacci Sequence Kicks Arse
. I was intrigued and I read it and understood it even though it was about math. Now that's cray, friends. I also liked
this post on suicide
, quite a timely post with good information on the topic. We can't ignore shit because it's unpleasant to think about. Check her out.
5. I have a time honored ritual of watching the Emmys with naughty snacks and writing down snarky things about what everyone is wearing and saying. I was working Monday and could not prepare my naughty snacks and since I was away this weekend I could not sit around on my ass watching them and crafting snarky live posts about them. Can we go back to a Sunday in September? For the love...
6. My Emmys best dressed - Lizzy Caplan, Amy Poehler, January Jones (I usually hate what she wears), and Julia Louis-Dreyfus
7. My Emmys worst dressed - Allison Janney (Whyyy with the 80s bow? The color is great and you are so cool, I'm disappointed), Kate Walsh (are you stoned?), Katherine Heigl (a dull dress that ages you...never good), Lena Dunham (your bad attire schtick is getting old), Kerry Washington (I don't care who loved it, I hated it, it looks like a Gym Night costume with sparkles hot glued on it), Laura Prepon (you're better than this), Blossom (this is not a period piece, dress your age), Kate Mara (EMO), Julie Bowen (this is your best?), Sarah Paulson (I'm not even sure what to say)
8. Yesterday Philly threw the
Taney Dragons a parade for their performance in the Little League World Series
. It seems odd, a parade on a weekday for kids who didn't win it all, given that Philly has $0 to fix schools, roads, etc. the recognition at the Phillies game probably would've sufficed. Still, I started crying, of course. I don't really cry when I'm sad, but I do cry when I'm frustrated and when I'm really proud for someone or something. Like in situations like this or whenever the National Anthem is played. LOL
9. I know now that summer's winding down, you're all up for a challenge. I know it. Luckily for you, one is presenting itself right
here
. Join the Create Your Own Adventure monthly goal setting challenge - click
here
to read the particulars on Steph at Not Entirely Perfect's blog post. There will be a theme for each month and you'll set goals around that theme and if you blog, link up with your progress the first Thursday of the following month. The theme for September is Fitness. So come up with a goal(s) on that theme, do your thing, and link up with us on Thursday, October 2, to report in on how you did. Personally, I know it takes 21 days to make or break a habit, so I'm going to be using these months to do some habit making and breaking. My fitness goals for September are 1) Walk four times a week 2) M-F squats 3) Three days of strength training every week. I can't wait to see what yours are! Grab the button code below and prep your 10/2 post - no excuses! You got this.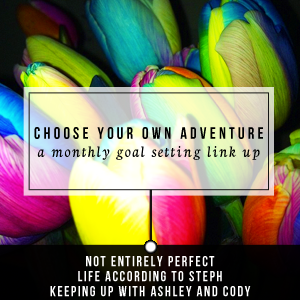 10. Ecard of the week: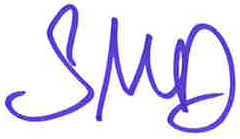 Linking up with
Kristin
for Stuff & Things