Happy Saturday friends!
Steph at
Not Entirely Perfect
hatched an awesome idea - a monthly goal challenge where we all work on one theme in a way that rings true to each of us individually. I'm basically going to copy a lot of
this post
of Steph's to share some info with you here.
Each month has a different general topic, such as food, relationships, organizing, etc. Within that general topic, you pick what you want to work on.
If you don't blog, feel free to comment on my blog post on
facebook
or tweet
me
,
Steph
, and
Ashley
to let us know you're participating and how you're doing.
Bloggers, the link up will be the first Thursday of each month. You have a full month to work on your particular goal and write up a recap post. The theme for the next month will be announced on the first of the month. I'll be sharing my goal for the next month with you then and hope you'll share yours with me. We'll all get by with a little help from our friends, am I right?



The challenge for
September
is
fitness.
You'll link up or report your progress on Thursday, October 2.
It can be as simple or as complicated as you want. You can choose one goal or more. It's entirely up to you to create your own adventure within the general topic of fitness.
My goals for September's fitness challenge:
1) Walk four times a week
2) M-F squats
3) Three days of strength training every week.
2) Non bloggers report in on your progress and bloggers link up your post about your results for the month - we want to hear all about what you did, how you fared, what resources you used, what you'd recommend to others, etc.
3) Bloggers, please link to your actual post about your results. Links not having to do with the challenge will be deleted.
4) Feel free to use this button, created by the lovely sarah at venus trapped in mars. You can also copy the image and upload it to Instagram if that's your bag.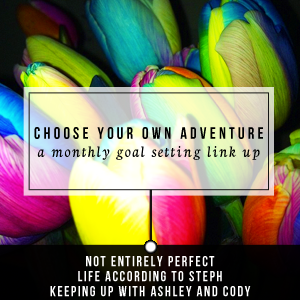 Are you in? What are you going to work on? Do tell.