Hi ho hi ho, it's off to Salem I go. I'm road tripping up to Massachusetts this morning. My friend Jana who blogs at Jana Says (formerly The Townhouse Pioneer) was kind enough to step up to the plate to take over Thursday Thoughts today (spoiler: I died laughing at #4 below). Jana and I go way back to our shenanigan filled days together at the University of Delaware. We reconnected on Facebook and were delighted to find out we now have blogging in common. Please check Jana out and follow her blog, it's always witty and genuine.
*************************************
I am so thrilled to be guest posting here again. Steph is so sweet and generous for letting my special brand of crazy infiltrate her blog again. Some you may know me from my blog The Townhouse Pioneer but this week, I merged it with my other blog, Jana Says, and that's where you'll be able to find me from now on and I hope you'll stop by and visit. You can also say hi on Twitter, Pinterest, Facebook, and Instagram.
Keeping with Steph's Thursday thoughts, here are mine:
1. For some reason, where I live (in Delaware), it's been raining every Wednesday for the last few months. Ordinarily that wouldn't bother me, but Wednesday is trash day in my neighborhood. There are few things that smell as bad as wet garbage. So either trash day needs to change or the weather needs to get its act together.
2. A few months ago, my husband won an iPad mini. It's still in the box. It drives me crazy and he has approximately 3 days left to decide if he'll use it before I take it.
3. My daughter had cheer camp this week, for 3 days from 8AM-noon. What the hell is that? Half day camps are worthless. Four hours is not enough time for her to do anything or for me to
get a break
do anything productive while she's not home.
4. I love reading the Google search terms that bring readers to my site. Mostly they're amusing. Occasionally they're disturbing. Like yesterday. Someone found my site by searching for "Zumba fucking." I don't even know what to think.
5. My neighborhood has a community pool and you're only supposed to use it if you pay your HOA dues. Which we do not. Nor do most people. However, I have a friend who does so we got to use the pool anyway. Take that, crappy HOA. My sunburned knees are laughing at you.
6. Speaking of that, how is exactly that my knees got sunburned? They had sunscreen on them because I am a crazy person about using it. And also, really, sun? My knees? You couldn't pick a part that I don't have to bend on a regular basis?
7. I went to a jewelry party the other night at my neighbor's house. Ordinarily I turn down those invitations because a) I am antisocial and parties mean pants and b) I'm not going to buy anything anyway. But I decided to be nice this time.
I had fun with the other neighbors who were there but let me say, I don't appreciate the high pressure tactics (read: guilt trips) they employ to get you to buy stuff. Please, just let me eat your food and leave. I don't want to buy anything.
8. Serious note: I am LIVID with the story in the news lately about the father who left his kid in a hot car and claims he "forgot" the kid was in there and the kid died. Bullshit. You do not forget a kid is in your car. That's a big, fat lie. As a parent, I can say not once have I ever forgotten my daughter was in the car. Not. Once. Even if she was asleep and quiet. Also, have you seen his interviews on the news? No remorse, no tears. Nothing. It's almost as if he wanted it to happen. I am so glad he's been charged with murder and I hope someone locks him in a hot car.
9. While we're on the subject of hot weather, if you happen to have an outdoor cat (like I do, although she's more of an indoor/outdoor cat now, thanks to the polar vortex), a good way to help keep them cool is to take an empty ice cream container, fill it with water, and freeze the water. Then put it outside. It supposedly gives them something cool to lean against and when it melts, it's cool water to drink. If you don't have an empty ice cream container, freeze a bowl of water.
10. And since it's Steph's tradition to have an ecard of the week, I thought I'd keep that going: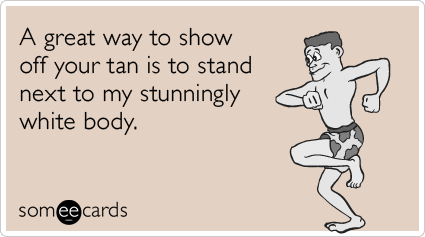 Check out Jana at Jana Says!
*************************************
Friday Favorites from My Little HEA & a $50 Amazon Giftcard Giveaway!
See you then, friends.