I Didn't Marry My Best Friend
? HuffPost found it and asked me to participate in a segment about the subject on HuffPost Live, HuffPost's online streaming network. I was seriously fucking jazzed to be contacted by HuffPost about a blog post I wrote. It's difficult to mention something like this without people thinking you think you're too cool for school (I don't) or that you're being too hard on yourself when you pick out something you don't like (I'm a realist, not a negative nancy). Things that go through your head when watching yourself like this:
it looks like my upper lip isn't moving, hahahaha/my voice, it's my mother's! nasal city/so glad I wore makeup/I didn't curse!/thank God holding the phone is keeping me from gesturing wildly like I do/I wish I had more clothes that color/is there any visible dirt on me from gardening?
It was pretty cool even though I wanted to vomit right before it was happening because hello, Nervous Nelly checking in for web TV. I even wore makeup on my day off. You're welcome for the makeup, internet. A huge thanks to MFD for his encouragement and support: without him I probably would've declined HuffPost's request for an interview because it's definitely out of my comfort zone. Even though I'm out here blogging daily, I still shy away from attention and am not at home in the spotlight. He basically told me to get out of my own head, so I did, and it was fun. The End.
2. In addition to doing that Monday, I cleaned out closets, washed couches, ran errands, made some appointments, went out to lunch with MFD and had delicious grilled fish tacos, watched MFD get sucked into the Target One Spot, and finished up my flowers. Sometimes you just need a day during the week to bust a move.
Check it out here
.
4. You fucking go, Pennsylvania. I'm proud to live here. Except for the fact that Corbett is the governor. I'm not proud about anything having to do with him and hope to be bidding him adieu after November.
6. This dog. She's insane. The middle photo cracks me up.
Bare Minerals Exfoliating Treatment Cleanser
based on a recommendation from
Amanda at Meet at the Barre
and the fact that exfoliating remains my face's weakest link, and Biolage Color Last shampoo and conditioner based on my nose thinking the scent is amazing.
8. They're still not back and
more shit is going tits up in Nigeria
. The United States is on the ground in neighboring Chad to monitor drones looking for these girls. I hope we can do what the Nigerian government has not been able to. I also hope Hoko Baram finds his ass on a terrorist watch list immediately. #BringBackOurGirls
9. Need something for your wall? Proceeds from this print order go to support Walk MS. Order by clicking on this:
Eva Marie Typography shop on Etsy
. I ordered Do Good for my gallery wall and hung it Monday (first picture below). It's something we live by in this house. I'm giving one away on
my Facebook page
today. All you need to do is head over and answer the question. Winner will be drawn randomly this evening and chooses their print and colors.
10. Ecard of the week:
Dear tiny 8 pound, 6 ounce, new infant baby jesus, deliver us early unto this three day weekend. Shake & bake. Amen.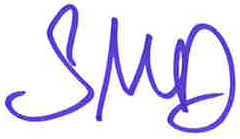 Linking up with
Kristin
for Stuff & Things