Flowers for no reason from MFD? Sounds good to me. Organizing the pantry? Even better. Friday nights on FIRE, my friends.
I ran errands like a boss Saturday morning, and all good errand days start at Dunkin Donuts. After that I went to Target and stuck to my list, ShopRite, PetSmart for dog-safe rock salt, and Marshalls where I got the lovely cross body bag pictured. And stayed under my budget. Who am I the day after the January Spending Freeze ended?
1 - Buffalo chicken dip for Sunday
2 - Homemade
Sloppy Joes a la The Pioneer Woman
(I used 2 lb ground turkey and 1/2 lb ground beer. Also added additional red/yellow/orange peppers) for Sunday. I also prepped veggies.
3 - A recipe I tried on a wing and a prayer and it was good - chicken thighs over sauerkraut. I hate kraut and I liked it. I
pinned the recipe to the top of my FB page
- it's in the comments. Check it out if you're inclined.
1 - Breakfast burritos: 12 eggs scrambled, 1/4 of an onion chopped, shredded cheese and salsa to your liking, and I reused the leftover shredded pork I had.
2 - Two week's worth of breakfasts, wrap in plastic and pop in the freezer, microwave on high for 1.5 minutes.
3 - I also bagged up the rest of the pork to freeze so I can make these two more times.
Wahlburgers - I love this show. The final two episodes of SOA season 4. Currently reading Fannie Flagg. Not pictured: zumba and laundry. Because who wants to see that?
Maisie simply does not understand laptops and that she should stay off of them. I had to get the dogs out to enjoy the 50 degree temps, especially since snow is forecasted for Monday.
1 - Sloppy Joes and buffalo chicken dip
2 - Shrimp, veggies & ranch dip, hummus, spinach dip
3 - These little beauties are jalapeno poppers using crescent rolls. Recipe to come.
My inlaws joined us for the snacking and Super Bowl. Dessert was cherry crumble with vanilla bean ice cream and brownies.
I am cuckoo for cocoa puffs when it comes to organization. Did you know
Steph from Not Entirely Perfect
is as well? That's why we are giving you a chance to win $50 to The Container Store. I love finding ways to organize on the cheap, but sometimes you just need to go to the Mother Ship to get your organizational items. Come back here on Wednesday to see some of my favorite Container Store items and other ideas for organizing on the cheap.
a Rafflecopter giveaway
January Spending Freeze friends, are you ready to link up with me, MJ, Erin and Katie tomorrow? Bloggers, grab a button and come back tomorrow to tell me all about how you did. Non-bloggers, leave your results in the comments tomorrow!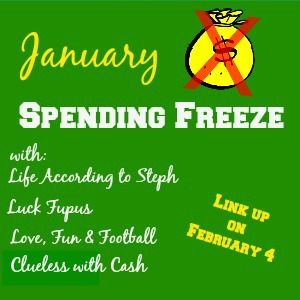 And and and...readers of Carly at The Pinot Project, she's launched a new blog! Check her out and follow her at
Written from the Mitten
.