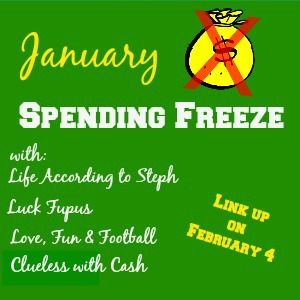 In January I embarked on a January Spending Freeze with fellow money saving warriors MJ at
Luck Fupus
, Erin at
Love, Fun & Football
, and KP at
Clueless with Cash
. Today is the day to put it all out there, and if you joined us, to grab the button above and link up your post! Non-bloggers, please leave your thoughts/results in the comments below or comment on my facebook link.
The Rules I Played By
1. Spending freeze lasts from January 1 - January 31.
2. No outings that are not budgeted for prior to 1/1 - no impromptu lunches, dinners, or nights out. Example: I have a Coach Bingo on 1/11, an outing on 1/18, and a dinner on 1/25. They are all in the budget and okay to spend money on (but I must stay within the amount that's been budgeted).
3. No purchases that are not budgeted for prior to 1/1 - no daily coffee runs, shiny baubles at Target, books, etc. I am allowed to purchase one DD coffee per week.
4. Once you set your rules, live by them. Prepare a post or comment here on 2/4 to share how you did.
Here are my results.
January 1 budgeted outing
: $65 under budgeted amount.
I did not feel the need to shoot my leftover wad on something else just because I could, setting the tone for the rest of the month.
Winning.
Realizations, January 3 & 4: I am superior, saint-style person
Snowed and iced in. I peruse some of my favorite online shopping sites but avoid buying anything, which results in me feeling like a saint-style person a la Bridget Jones.
Realizations, January 5: Pumped for budgeted purchases, even if they are furniture
I had some additional income in December and set that money aside for this purchase after Christmas stuff came down in January. I've never been more giddy to buy a lamp and chair before.
Date of infraction: January 7
Purchased:
Down Jacket from Land's End
Amount:
$99
With:
Visa debit
Note:
After nearly six years of commuting, I couldn't take not having a knee length warm winter coat for one more fucking day. Too many days of commuting in windchills of -18 caused me to have a Polar Vortex breakdown. Thankfully, knee-length down coats were 50% off at Land's End. BOOM.
Lesson: This is a big hit to the spending freeze, but I don't feel even a little bad about making the purchase.
I've thanked my fucking stars that I bought this pretty much every single day since I received the box because the rest of January was brutally cold and precipitous.
January 10 budgeted outing for my soon to be sister-in-law's birthday: $16 under budgeted amount.
January 11 budgeted outing for Coach Bingo fundraiser: $12 under budgeted amount
Date of infraction: January 14
Purchased:
Two bottles dry shampoo
Amount:
$13.42
With:
Debit
Note:
Sweet Brown ain't got the time nor the inclination to wash her hair every day. When I realized I ran out last week, I tried to make do with powder but it wasn't cutting it. I can't be walking around looking like Caspar the Friendly Hair Ghost.
Lesson: Check your stash of shit before beginning a spending freeze.
January 14 budgeted outing
dinner with my oldest friend: $8.50 under budgeted amount
Date of infraction: January 17
Purchased:
Two super bowl blocks in a block pool
Amount:
$10
With:
Cash
Note:
I considered pawning this expense off on MFD but I'm the one who committed to it so I need to be accountable for it.
Lesson: Before you say, "I'm in," remember you're on a Spending Freeze, dumbass.
Date of infraction: January 17
Purchased:
Museum tickets. Just kidding. BEER.
Amount:
$20
With:
Cash
Note:
MFD was playing at a bar with Hank, and my presence was required. I found out about this outing on January 12 so I couldn't budget for it ahead of time.
Lesson: I need to build a line into monthly budgets for things that come up.
Date of infraction: January 22
Purchased:
Living Social deal to All Fired Up (pottery painting studio)
Amount:
$13 for $30
With:
Paypal transfer from bank account
Note:
Marla made me do it. I mean, I've been wanting to do it, but she lured me in with promise of a girls day and lunch after with her and Brie.
Lesson: A deal is a deal, and sometimes you need to go for a rare business opportunity, which is what Marla calls these types of things.
Total saved from budgeted outings: $101.50
Total spent on non-budgeted items or outings: $145.42
My goal for the month was to buy two bridesmaid dresses (I had half saved from December) and put aside money for hair for two of the three weddings I'm in this year. I also wanted to pay off remaining Christmas debt (minimal). I did all of those things with the money I wasn't spending mindlessly. I also only picked up dairy and produce from the grocery store, cooking mainly out of the freezer and pantry, which helped me with my bottom line.
Saturday I went to Target, my first day off of the freeze, and stuck to my list. There was much joy throughout the land. I also planned February purchases so I don't go hog wild: a bookcase for the basement to replace broken storage down there, a Buddah candle holder, black flats, a new cross body bag, and two Alex & Ani bracelets.
And you? How did you make out?
Today is World Cancer Day. To join my Relay For Life team or donate to me, click here. I will Relay until no one has to hear the words, "You have cancer."
Did you
enter to win
$50 to The Container Store yesterday? Get on it!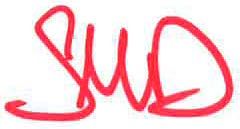 View 2013 no spend months here: (
My Dirty Book of Shame - Spending Freeze Diary Violations and Realizations
), my March spending freeze (
Spending Freeze Book of Sin - I Veruca'd Myself
), or my No Spend September (
Sinful Admissions of a No Spend September
).