If you've been around for a while, you might remember my report on my last no spend January (
My Dirty Book of Shame - Spending Freeze Diary Violations and Realizations
), my March spending freeze (
Spending Freeze Book of Sin - I Veruca'd Myself
), or my No Spend September (
Sinful Admissions of a No Spend September
).
The goal of each of those spending freezes was to not spend money on anything that wasn't in the budget. The resulting posts were my victories, slip ups, and thoughts on each spending freeze.
I'm doing it again in January and making it a linkup that I'm co-hosting with MJ at
Luck Fupus
, Erin at
Love, Fun & Football
, and KP at
Clueless with Cash
. You should join us!
Why I think you should join the January Spending Freeze
1. Most people hemorrhage money in December. A spending freeze in January is refreshing. It will allow your bank account some recovery time and jump start any financial goals you've made for 2014, whether it's paying down debt, putting more money into savings, paying for a vacation in advance, or all of the above.
2. It's a challenge, and it's good to challenge yourself.
3. It will make you really think about
what
you're spending and
where
. In the future, if money is tight, you will know what you can cut out immediately.
4. It will make you think about
why
you're spending. Emotional spending is as real as emotional eating and neither are healthy.
5. It will show you
where
your money is going and allow you to reevaluate
how
you spend when it's over.
6. Honestly, most of us have enough and can go a month without buying something or spending extra on what we don't need.
The Rules
1. Spending freeze lasts from January 1 - January 31.
2. No outings that are not budgeted for prior to 1/1 - no impromptu lunches, dinners, or nights out. Example: I have a Coach Bingo on 1/11, an outing on 1/18, and a dinner on 1/25. They are all in the budget and okay to spend money on (but I must stay within the amount that's been budgeted).
3. No purchases that are not budgeted for prior to 1/1 - no daily coffee runs, shiny baubles at Target, books, etc.
You can amend the rules as you see fit - if you MUST be able to purchase one coffee a week, build that into your rules. That one DD coffee is important to me, so I can buy ONE per week. I learned that after I totally screwed myself in the first freeze. If you are going balls to the wall and trying to spend $0 outside of bills and transportation, gird your loins and get ready to buckle down!
Whatever you lay out for yourself, be realistic with your goals for this month. Make changes to your spending habits for the next month that can work for you so you don't hate me and yourself by January 6.
Once you set
your
rules, live by them. Write down any expenditures that aren't in your budget, grab the button below and report in on your experience on Tuesday, February 4. Bloggers, link up your posts. Non-bloggers, prepare to share your list of spending freeze reflections in the comments here or on Facebook or twitter.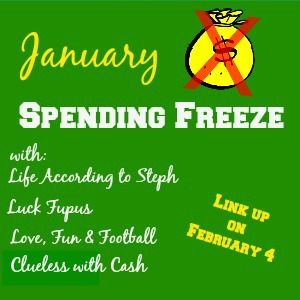 What do you say? Are you in? Let's start the revolution.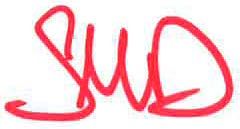 Linking up with Joy as always, even when I have more than five.