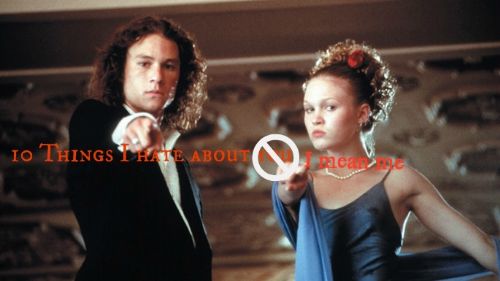 We are all primed to accentuate the positive. I play by those rules. However I am also a firm believer that there is freedom in acknowledging things about ourselves that are not quite so likable or good. The sun does not shine out of our asses 24 hours a day. We all do shitty or disappointing things. We're all vulnerable in places we wish we weren't. Saying those things out loud can be liberating.
10 things that piss me off about myself:
1. When I know I'm acting like a bratty asshole child and stubbornly keep at it instead of stopping.
2. When I get pissed off or have my feelings hurt from an interaction with someone I know not to have high expectations of, or any expectations of at all.
3. When I leave my reusable grocery bags in the house instead of in my car.
4. When my OCD kicks in and I have to go back downstairs to check and make sure the door is locked.
It always is, freako. It always is.
5. When I forget I'm 36 and drink like I'm 19 and have to deal with the consequences of a two day hangover.
6. When I don't go to the bathroom right before bed, get all comfortable and read my book, and as soon as I turn the light out feel the slightest
I may have to pee
feeling so I end up getting up and going. I should've just gone before I got into bed.
7. When I get irrationally, insanely angry over the same shit. MFD runs on MFD time, which means always late. I literally lose my shit over it every time we're going somewhere, shooting to the top of a towering inferno of rage every.single.time.
8. Crying or throwing up when I'm around other people. There are times when I want to be alone, and those are two of them.
9. When I create obstacles for myself or allow my vision for something to become cluttered with bullshit.
10. When I'm too lazy to take my dogs for a walk.
What do you hate that you do?